When the texture of your world is made up of words and not colour or shapes, it brings a whole new energy to your life.
Find my blog post, the journal of an author and my books, all aight here. Sign up to my newsletter and I will let you know when the new releases will be plus don't forget to download your free copy of Troll the prequal to the Alex Brown series.
more
The Alex Brown series so far
BOOK 1 - HARVESTER
And detective Alex Brown is on a cat and mouse chase with the killer to prevent the next brutal murder. But is she the hunter or the hunted?
The very first book in the Alex Brown murder mystery books series delivers a punch in the gut. Dark, twisted, and brazen — the horror book is everything a thriller is supposed to be and more. Fair warning: it isn't for the faint of heart. But if you enjoy a story that's equal parts gruesome and terrifying, then get ready for a hell of a ride. This thriller book paperback will keep you at the edge of your seat.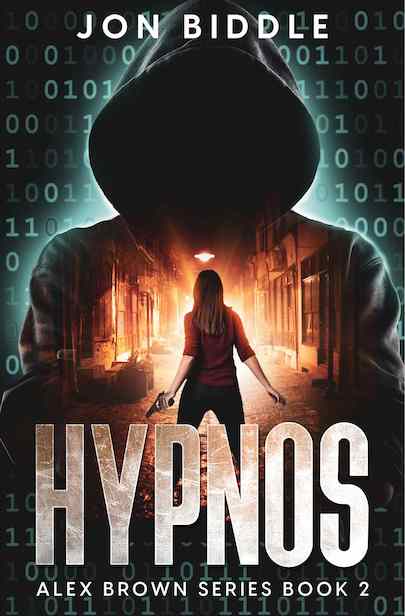 BOOK 2 HYPNOS
THE NEFARIOUS DALE BROC IS BACK. AND THIS TIME, HE HAS STOLEN A TECHNOLOGICAL WEAPON THAT COULD CHANGE THE FATE OF HUMANITY FOREVER.
Book 2 in Jon Biddle's Alex Brown series, this technothriller book brings back the diabolical liver surgeon Dale Broc from the first book. With his good boy image blown to smithereens, he has nothing left to lose. And with a deadly ally in the form of a Korean assassin and a trump card to boot, nothing can stop him.
BOOK 3 NaNo
THE FATE OF A THIRD OF EUROPE IS IN THE HANDS OF A DERANGED SCIENTIST AND THE CLICK OF A BUTTON. DOES ALEX STILL HAVE IT IN HER TO STOP HIM?
Alex Brown is a broken woman. The fire in her has started to fizzle out. Still reeling from the loss of her husband Simon, she finds herself drowning in a quagmire of nightmares, guilt, and hopelessness. Will she be able to fight the very demons that threaten her sanity even as she takes on an even more deadly enemy? The third of the Alex Brown thriller books series promises to be even more gripping, exciting, and nerve-racking, all at the same time.
BOOK 4 Origami
INTRICATE ORIGAMI ART IS POPPING UP IN DISPLAY WINDOWS  OF HIGH-END LONDON STORES. THE ONLY PROBLEM? THEY ARE MADE OF HUMAN BODIES. WHICH MEANS THERE'S A MURDERER WITH A GRUESOME FIXATION OUT THERE. AND ALEX BROWN HAS HER WORK CUT OUT FOR HER
As London gears up for its world-famous fashion week, it gets a curtain-raiser far beyond anybody's wildest imagination. A gruesome origami in the shape of a crane turns up in the display window of Harvey Nichols, and it leaves Londerners reeling.
Forensic experts believe there are two bodies sewn together.
Love for you to get in touch. We can chat about my books, what youre into, any medical problems you might have (within my scope of practice) and any emotional traumas you have experienced or still experiencing? Seriously, if the voices are taking over, message me, I will get back to you.